Behold: the simplest app to store all your Notes well-organized on your PC.

Hey! Not only notes! It's an extraordinary tool for everyday use - diary, project-management, scheduler, contact-management, storing access codes, and so much more!







---
Ergonomic, Fancy.





Our aim: only important features and simple, elegant interface. Focus on capturing your writing rather than seeking help files.

Secure.





All your valuable records are safe from unauthorized access - just provide a password for your information, and All My Notes Organizer will lock it with the 1800-bit cypher.

High-Tech.





Instant search. Blazing-fast db-driven storage technology. Export to RichText, HTML, and simple text. Multilingual, Themed UI.
---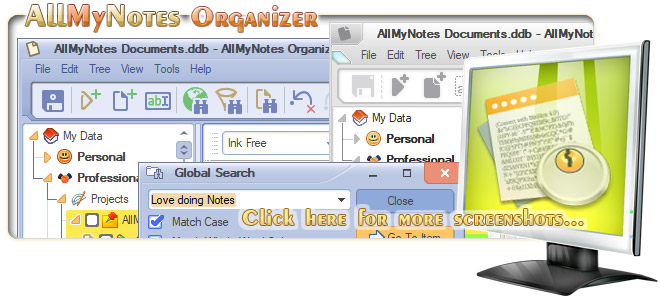 ---
AllMyNotes Organizer advantages.
The concept is not to create a narrowly used tool, rather a smart Swiss Knife, we provide you with "bricks", and out of them it's easy to build whatever you need. Major "bricks" are: access restriction with a password, Alarms, Checkboxes, Tables, File-Attachments, Icons, Strong password-generator, automatic url/email/phone recognition, a Tree-like organization of notes (by topic), Sorting, blazing fast Search across all your data.

Now let's see what you need?.. Say, you need a diary - use separate notes to group diaries by topic/dates, plus, set up a password to restrict access to your data, after all, your diary is a strictly private thing, right? What else?.. A password-management! Use the built-in password generator to generate strong, secure passwords, save each password into a separate note, it's useful to also save various account restore information, as well as payment history related to that account, it's good to keep all related information grouped together. Hopefully you got the idea, number of uses is very wide, with a little fantasy there is no limit :)
---



Minimum system Requirements:





Windows XP and all higher - 10/8/7/Vista/XP, compatible with both 32-bit and 64-bit systems.